E-Summer Course Business Innovation Management Sekolah Bisnis IPB: Tantangan Meningkatkan Kapabilitas Diri dalam Berinovasi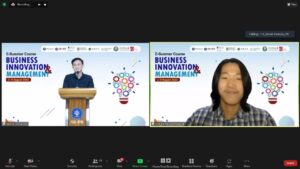 Sekolah Bisnis IPB telah sukses menyelenggarakan Program Summer Course Business Innovation Management (BIM) selama 9 hari terhitung sejak tanggal 01 hingga 09 Agustus 2022 secara daring. Program ini melibatkan 110 orang peserta yang berasal dari 13 universitas mancanegara yaitu Indonesia, Malaysia, Oman dan Nigeria. Program ini menghadirkan 11 pengajar professional dari universitas dalam dan luar negeri yang memberikan berbagai topik luar biasa yaitu Dr. Rafal Balina (Warsaw University of Life Sciences, Polandia); Prof. Dr. Sazali Abd Wahab dan Dr. Ahmad Shaharudin Abdul Latiff (Putra Business School, Malaysia); Dr. Mariana Koukou (University of Glasgow, UK); Dr. Ir. Idqan Fahmi, M.Ec dan Prof. Dr. Noer Azam Achsani (IPB University, Indonesia); Dr. Ramadhona Saville (Tokyo University of Agriculture, Jepang); Dr. Yusuka Hayashi (Hiroshima University, Jepang); Assoc. Prof. Dr. Farizal Rajemi dan Dr. Emy Ezura A Jalil (University Utara Malaysia); dan Dr. Masamu Kamaga (Kirirom Institute of Technology, Kamboja).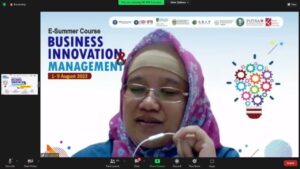 Beberapa tema materi dalam E-Summer Course BIM Sekolah Bisnis IPB University tahun ini diantaranya "Business Cycles, COVID-19 and The Impact to The Global Economy", "Financial Management for Business Innovation" dan "Innovation for Business Competitivenes". Program ini tidak hanya menawarkan kegiatan kuliah tetapi juga mengadakan kompetisi internasional yang terdiri dari project assignment dan self-assignment. Kelompok peserta terbaik akan mendapatkan penghargaan dengan beberapa kategori seperti : The Best Presenter in 3 Minutes Thesis, The Best Project, The Most Genuine Idea Project, dan The Most Innovatiove Project. Selain itu, peserta yang berpartisipasi penuh selama perkuliahan dan kuis diberikan penghargaan dengan kategori best student untuk mahasiswa sarjana, master dan doktor. Siti Jahroh, Ph.D sebagai ketua pelaksana program E-Summer Course BIM 2022 menyampaikan rasa terimakasih kepada seluruh dosen dan asisten, para panitia, dan tentunya kepada para peserta yang telah berpartisipasi hingga akhir. "Kegiatan ini telah berkembang, tidak hanya memberikan kesempatan peserta untuk memperluas jaringan dengan negara lain tetapi juga menjadi tantangan untuk mengasah kemampuan mereka, salah satunya dalam kompetisi project assignment three-minute thesis (3MT). Kedepannya, SB IPB akan mempertimbangkan tidak hanya menyelenggarakan summer course tetapi juga winter course".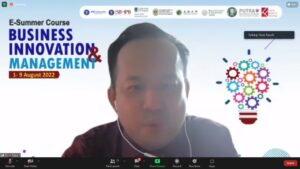 Assoc. Prof. Ts. Dr. Mohd. Rizal bin Razalli dari Universiti Utara Malaysia turut memberikan sambutan penutup. Beliau menjelaskan bahwa e-summer course telah menjadi new normal era bagi para dosen dan mahasiswa untuk bisa bertemu dan memperluas jaringan dengan berbagai negara di dunia. "Kita semua sadar bahwa kita perlu beradaptasi dan berinovasi untuk mencapai kesuksesan dalam menghadapi perubahan yang cepat dan tidak tentu. Inovasi sangat penting, dan e-summer course BIM menjadi salah satu jalan untuk meningkatkan kapabilitas diri dalam berinovasi. Metode 3MT pada kompetisi ini sangat menantang sekaligus menyenangkan karena tidak hanya melatih peserta untuk membuat topik projek tetapi juga bagaimana mereka bisa mempresentasikan seluruh hasil projek hanya dalam waktu 3 menit", ungkapnya dalam sambutan penutup. (SSB/NF)