SB-IPB kembali selenggarakan International E-Summer Course bertema "What Business Envision on Climate Change and Smart Cities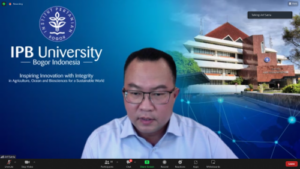 Sekolah Bisnis IPB University (SB-IPB) kembali menyelenggarakan international E-Summer Course Sustainability Business Development (SBD) untuk ketiga kalinya, 18/7 secara virtual synchronous dan asynchronous. Pada tahun ini E-Summer Course SBD mengusung topik "What Business Envision on Climate Change and Smart Cities". Program ini merupakan kolaborasi antara IPB University, Indonesia; University Sains Malaysia, Universiti Sultan Zainal Abidin, Malaysia; Tokyo University of Agriculture, Jepang; University of Zagreb, Kroasia; North Dakota State University, USA; Adam Smith Business School, United Kingdom; dan University of Santiago de Compostela, Spanyol. E-Summer Course SBD ini diselenggarakan selama 10 hari (18 – 28 Juli 2022) dengan jumlah peserta sebanyak 63 orang dari 9 universitas yang berasal dari 4 negara yaitu Indonesia, Malaysia, Oman, dan Mesir.
Hadir Prof. Dr. Arif Satria, SP, M.Si selaku Rektor IPB University memberikan sambutan pembuka. "Saat ini IPB University terus mengembangkan program pendidikan "Future IPB 4.0 Education" untuk menciptakan lebih banyak powerful-agile learners dengan future mindset dan pengembangan keahlian." Ungkap Rektor IPB University. Rektor mengapresiasi kepada seluruh pihak penyelenggara di Sekolah Bisnis IPB University dan para peserta yang mengikuti kegiatan e-summer course serta berharap program ini akan menjadi pertemuan yang produktif dan bermanfaat.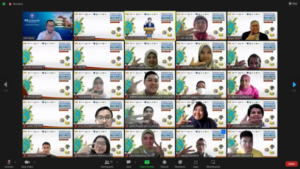 Sambutan disampaikan juga oleh PLT Dekan Sekolah Bisnis IPB, Dr. Ir. Idqan Fahmi, M.Ec yang menyampaikan terimakasih kepada seluruh pihak panitia dan para peserta dalam kegiatan ini. "Program ini merupakan langkah awal menciptakan platform virtual dan jaringan global untuk memberikan pengayaan pengetahuan kepada mahasiswa diseluruh negeri dan mengeksplorasi pengalaman internasional dari asal mereka." Ungkapnya. Beliau juga mengharapkan mahasiswa untuk mencapai serangkaian hasil pembelajaran seperti mampu meningkatkan kapabilitas dalam pemahaman sustainability business development, keahlian dalam mengkomunikasikan argumentasi secara efektif, dan meningkatkan nilai kompetitif dalam menghadapi global competition.
Program ini akan di isi oleh 12 dosen terkemuka baik dari lokal maupun internasional, yang telah menyiapkan topik khusus disesuaikan dengan tema. Kegiatan ini juga mencakup self-assessment dan project assignment yang dijadikan kompetisi untuk para mahasiswa sarjana dan pascasarjana (master). Diakhir program, para peserta akan otomatis terdaftar dalam Business Innovation Engineering Conference (BIEC) 2022. (SSB/NF)